Hi Amy!
I joined Write with Influence tonight and it is amazing! I am SO glad I found your program. I can already tell that this is going to help me a lot! Thanks 🙂 – Melissa Netherton
You have a product or service that you are proud of. You know it works, you know it's worthy of attention and more importantly, you know it can make a significant, exciting difference to the life of your customer.
The only problem is, you don't know how to get this across in your writing.
You're not quite sure how to describe the biggest selling points so that your customer 'gets it.' You feel uncomfortable with the idea of 'selling' which causes paralysis (a horrible eater of valuable time) or makes you feel timid whenever you have to sit down to write some marketing materials.
And therein lies another problem – you always have to write marketing materials
Blog posts, event pages, welcome pages, about pages, social media updates, leaflets, brochures, sales pages, emails etc. Every time your business does something new, releases a new product, wants to make a sale (kind of always) you need to create materials to attract customers and encourage them to buy or try you out.
That frustration is the reason I created Write With Influence:
Write With Influence is an online, self-paced study resource with tutorials, techniques and templates to help you write more persuasive marketing content, faster. 
Eliminate the frustration of writing marketing copy in the dark
Love what I see in the course!

I've been a fan of yours for several months, so when I saw you were offering a course I didn't hesitate to go for it.  I've taken an hour or so to click around through the first module and I'm impressed.  There is a lot of material here for the price!  You're off to a terrific launch. I can't wait to dig in. Jim Pier
If you've struggled with having to write your own marketing content before, you can probably relate to:
Wasting valuable time wondering what on earth to write and how to get started

Worrying that as soon as you mention your product you're going to sound like a late night TV commercial

Actually underselling yourself because of this worry

Trying to play it safe, only to sound like everyone else

Feeling nervous when you publish, hoping you don't annoy customers while also fretting that there won't be any response

Knowing you didn't really do your product or service justice

Taking a knock to the confidence and look for that leaflet you had on joining the circus
Flippancy aside, this is a real-life pain that is crippling the confidence and stalling the success of businesses around the world, but it really doesn't have to be so hard.
So what's possible with Write With Influence?
Write With Influence has been designed with business owners and freelancers in mind. Anyone who needs to 'sell in writing' but doesn't have the time to sit around reading tons of copywriting and marketing books and spending months of trial and error trying to figure out how to write a headline or a sales page.
Great for a no-nonsense grounding in writing for the 21st Century…

I decided to become a member of Write With Influence after a long time reading the blog (harrisonamy.com). I wanted to use Write With Influence to improve my copy in general which is always good to learn in this business. The 15 Elements of Influence has been an interesting approach and the course has certainly honed my skills. It's great for a no-nonsense grounding in writing for the 21st century. Mike Garner MikeGarner.co.uk
Whether you want to improve your web content, your sales pages, leaflets, brochures, or pitches, Write With Influence helps you to:
Stop underselling yourself

In the first module you'll discover how to find selling points about your product that you didn't even know were there (knock-on effect? Huge confidence boost when you talk or write about your offer)

Pin down the customer details that will

actually help

you write more persuasively

Hint: it's

not

about the car they drive or any other psychic / impossible details other marketing courses expect you to know

Write with engaging emotion without sounding dramatic, weepy or like a manic cheerleader

(Goooooooo team! Yeah! Woot woot! Buy now! – No thank you…)

Write compelling content for your website

Use the materials to write strong web pages that sell the value of what you offer

Write multiple promotional marketing materials

You can use the course to write sales pages, brochures and leaflets to promote your business, a product, service or event – again and again

Understand how objections can arise

And what you need to do to tackle them before they come up

Save a heck of a lot of time and headaches

The materials show you what to do step-by-step. No more tearing your hair out wondering what to write or what should come next on your page

Brush up on all of those important Influence Boosters as and when you need to

Headlines, subheadings, bullet points, guarantees – we've got you covered
Pushed for time right now? Then you will really LOVE Write With Influence
This was designed for people who need help writing, but DON'T have time for another course right now and don't want to pay for a membership that they might not use every single month.
Your business has its own unique schedule. Sometimes you're flat out, sometimes you have extra time to study new skills. You need something flexible, that fits in with you (rather than asking you to commit to a 6 week course with 5 hours of study each week – argghh!)
That's precisely why…
There is NO time limit – once you're in, you're in for as long as Write With Influence is around. Then it's up to you whether you:

Use the resources as and when you need to brush up on something specific

Work through the materials from the beginning and use it as a course in persuasive writing

Use the modules, workbooks and templates to create marketing materials for an unlimited amount of marketing content

Hit the templates and use the lessons for reference to make a quick start writing a solid page of marketing copy

New content is constantly being added (and you can request lessons for free)

The value of the course increases over time as more content is added and updated

Founding members get to shape the future content – want a lesson on something specific? Ask, and if it fits we'll make it happen and add it to the course!
In short, Write With Influence is not only here for you when YOU need it, it will develop based on what YOU want, all for a one-off cost – (sigh of relief as 'pressure to use new thing' is removed)
When you register as a founding member, you pay a one-off fee and that's it. It will become a membership for future buyers, but you don't need to worry about recurring costs, it's a one and done price. This means you pay one manageable cost, while the course continues to grow in value. Sweet!
How does it work?
There are 6 main sections:

Define Your Offer

Know Your Audience

Your Goldmine of Influence

Overcome Resistance

Templates and Fast Track

Boosters
Each teaching module has different lessons to work through and there are workbooks to help you write down your answers to the exercises so that you have useful notes to review when it comes to writing.
In the templates section there is one main master template guide, headline templates, a fast-track template guide and a checklist to see how you did. The main template guide shows you what to write while linking to relevant lessons as you need them. The Fast Track template guide is stripped down and just prompts you what to write (perfect if you've been through the course once or already have your research done).
Other options to help you write better marketing copy are…
The wonders, delights (and time-suck) of the internet
There is plenty of free advice out there in the world about how to improve your marketing copy. The problem is it's scattered far and wide, by different authors of varying experience. It's like rummaging through the sale racks at TK Maxx. Yes you might find just what you're looking for at a bargain price, IF you don't mind spending hours across many days looking for it.
In short it can take a lot of time to look for information down the rabbit hole of the internet and find exactly what you want and need.
A vast pool of valuable content and lessons…

I want to write elegant, truthful copy for business owners wondering why their current ads aren't bringing happy customers through the door.

There's quite a few expert marketers out there promising to help people learn to do just that. But as I investigated different courses, I began to notice a disturbing trend. Many of these experts offered a hook that led not to the product they guaranteed, but another hook…and another hook…and another. After sampling some of the free content that you provide, I became convinced that your course was a vast pool of valuable content and lessons, and not just a bottomless pit of endless unfulfilled promises. Thank you for exhibiting the values of "truthful" and "elegant!" I am very excited to begin studying with you.

***Update***:I've already read through some of the materials on Write With Influence, and I was pleased to see that my hopes were not misplaced. In just a half hour browsing through some of the resources, I already know I'm learning from the right teacher. Thanks again! – Douglas Singer
Hire a specialist and get this darn thing done already! 
Next option, you could hire a copywriter to get that content done for you. Not a bad choice, I am a copywriter and have many happy clients. But here's my controversial statement coming straight from a copywriter's typing hand:
It is not always the best idea to hire a copywriter (and you might find no long term benefit)… Did I mention we can be pretty pricey?
If you have the budget, the time to brief a copywriter and know that you will make the fee back with that one piece of writing, then yes a copywriter is a great investment. BUT (and this is important to small business owners) a copywriter will usually create one piece for you. You get to use that piece as many times as it works, but you don't get to know why it works so you can do it yourself in the future. What's more, if your business changes, suddenly that brilliant Home Page you spent £600 being written can no longer be used.
You need something that helps you write persuasively no matter what you're offering.
Final option – go on a course 
I run copywriting training workshops so I'm not against a good course if it actually makes your life easier when you leave the course. But here's what I've found tends to happen:
You spend a lot of money (a one day course in copywriting in the UK is around £550)

You pack your head with information in one day, fuelled by coffees and pastries (biscuits if the course providers are stingy)

You leave exhausted, but pleased at a folder brimming with scribbles and handouts

Next day at your desk with a million things to do, you look over at your folder thinking "I should put some time aside to go through that and organise my notes"

Life and work never let you do this…
Why is the Write With Influence System different?
Excellent question, and the answer lies in the following elements:
No "sales speak" templates: the materials are tailored to your business and personality (and grow with you)
Write With Influence was developed over years of writing copy for businesses and then training other businesses to write their own copy. What I noticed was that while the businesses I worked with changed (from life coaches to software companies), the process of writing persuasively stayed the same. Over the course of running my workshops online and in Europe I developed a step-by-step system for researching the details of a business and then putting those details together to describe an offer or service persuasively.
The materials within this course have been born from hundreds of hours of creating exercises and training materials, trying them, tweaking them and refining them into the current system which I call Write With Influence. What's more, you'll never be forced to write anything that doesn't sound like you. I've downloaded plenty of marketing materials that encourage you to adopt the style that worked for the author. Just because certain words and phrases worked for one person doesn't mean they will work for you. They might even harm your reputation. Write With Influence gives you the structure to develop your own persuasive style.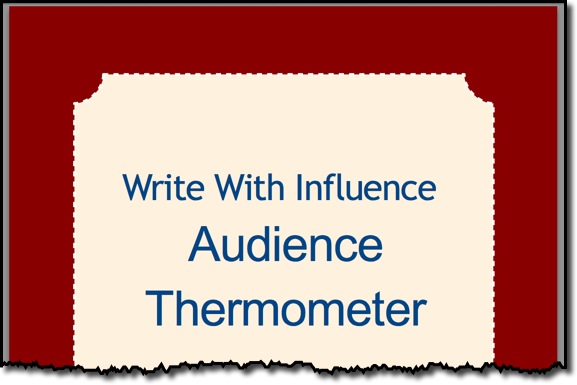 Seriously: No time-limit pressure or ongoing membership costs
I know it's not just me that sees an online course, gets excited, signs up and then BOOM life gets in the way and I don't have time to work through the materials. When I do have the time, the course is over or expired. Dang-it! As a founding member you get unlimited access to the materials (and future content) for as long as Write With Influence is around (something I see to being a very very long time). What's more, it's not a monthly membership for founding members. It's a one-off cost to make this accessible to small business owners. So if you're also like me and have signed up to online memberships that you've rarely used, you won't have the guilt of not using it or the pressure of not wanting to quit in case one day you need it.
When you need Write With Influence, it will be here for you.
Born out of a variety of business experience
The materials aren't just from my experience of writing persuasive copy. They've been developed by seeing other businesses use them and get results from them. There are some courses that teach you only what the course leader has done and experienced, but you don't always know how much of it is just their natural talent, environment or unique experience. The system behind Write With Influence has been used with:
A variety of industries: coaching, consultancy, nutrition and fitness, technology, finance, cultural relations

A variety of personalities: bold, introvert, nurturing, firm but fair

A variety of business sizes: solo business owners to multi-million pound international organisations

A variety of backgrounds: business owners, customer service reps, account managers, project managers, teachers

A variety of cultures: British, German, French, Latvian, Estonian, Finnish, Swedish, Bulgarian, Romanian, Cypriot,
Some of the workshops were training people where English was not their first language, so if you think you need to be a master of the English language and know a bunch of subtle psychological language tricks trust me, you don't (phew!)
It's not a static resource – it's constantly growing
The materials that you see when you become a member are just the beginning. There are already more lessons, tutorials and templates waiting to be added in and it will continue to grow. I still write for businesses and I still coach businesses about copywriting. Every time I do I see the potential for a new template, or exercise or way of explaining a lesson. Basically, your membership is only going to grow in value, and you get to access everything from one place.
Limited time: personalised feedback and opportunity to shape the course
Founding members get the best deal really because I actively want your feedback to do everything I can to keep adding value. That's why, as an early member you get access to personalised feedback on your writing, including:
1 x lesson feedback – Need to see how a specific lesson can be applied to your business? Let me know and I'll work through it with you (within 60 days of sign up)
1 x final page feedback – You've gone through the modules and written your content, send it to me and I'll give you personalised, tailored feedback (within 60 days of sign up)
The chance to suggest future lessons and content – want to know a technique for mastering something specific? Let me know and if it fits the style of Write With Influence, we'll do it (no time limit on this, keep those ideas coming)
This course is my one main focus in my business. I won't be releasing products or running events outside of it which means I'm dedicated to making this the best experience for you.
Is Write With Influence for you?
While the system of Write With Influence has worked with businesses around the world, the initial launch of the online version is aimed at a slightly narrower target market. This is for you if:
You sell or promote a business, product or service and you are the person who will be using the course and writing the materials
You understand that you get out of life what you put into it and you're willing to do the exercises

(You're not looking for the magic 'auto-write' button – one day we'll have one right?! :-))

Your offer has value and there are customers who love it (or will love it)

Write With Influence can shine up a great offer but it's not ethical to use these techniques for a poor-quality product

You're NOT looking for a blogging or content marketing course.

Write With Influence can sharpen up your blogging skills, and help your content marketing (especially if you blog to promote your product) but it won't teach you specifically about blogging or give you a content marketing strategy.
The workbooks help turn ideas into reality

I joined Write With Influence as I wanted to be able to write my own sales and web copy effectively. I was relaunching my website so the timing was great. The course helped me sell what I do much more effectively, taking into account my readers' mindset and desires. I would recommend Write With Influence, it's written in a fun and engaging way, and at the same time it's really clear. The workbooks help turn ideas into reality. I've used the materials to write every single page of my website. Ginny Carter, The Author Maker: Marketingtwentyone.co.uk
What you get as a member
As a Write With Influence member you get:
Access to all the materials, tutorials and templates
Access to all content added in the future
The chance to shape the content 
1 x lesson review by Amy (within 60 days of signing up)
1 x final page review by Amy (within 60 days of signing up)
Meet Amy Harrison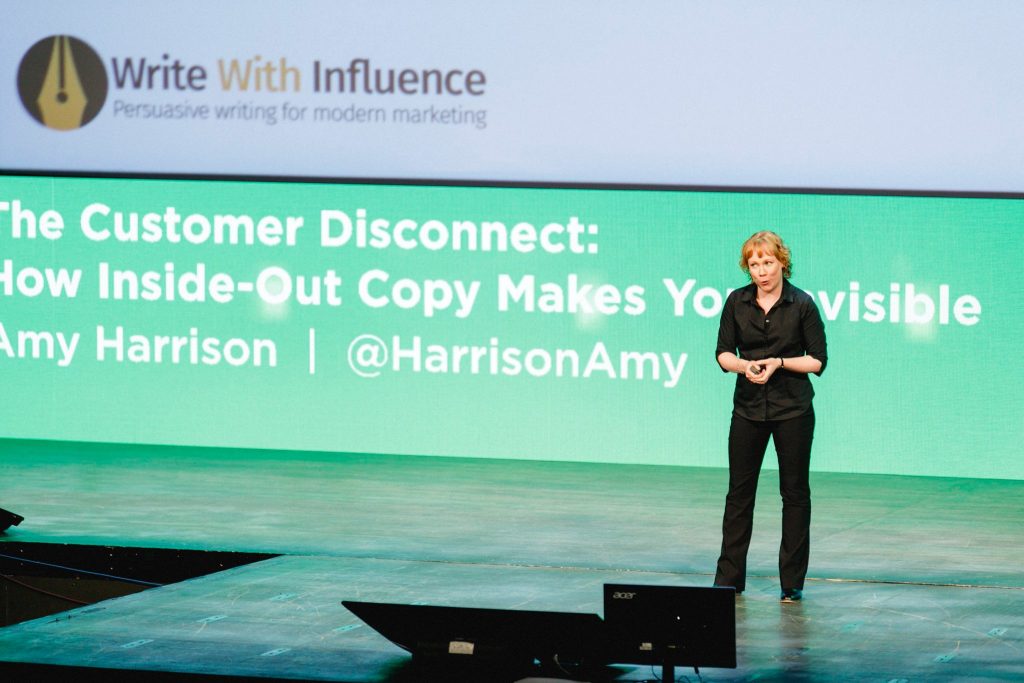 I put together Write With Influence after years of working with big and small businesses in my copywriting workshops. The materials worked and I got a real kick out of seeing business owners and employees writing more persuasive marketing copy, and seeing the confidence that went with that.
What frustrated me was not being able to reach more people especially when I saw so many business owners and freelancers struggle with the idea of 'selling themselves.' So I gathered all the materials from my workshops over the years and put them into an online resource that would be accessible and affordable to small business owners.
A bit more about me:
I studied scriptwriting for film and television for 3 years at Bournemouth Media School

I have always loved film, TV, stories, performing on stage and public speaking

I spent around 4 years working for a private investment company that bought and sold websites (where I translated my scriptwriting skills into copywriting skills)

Since 2008 I have been working for myself as a copywriter and training businesses how to improve their copy

I used to sing in a bluegrass band where I met my husband

I'm also a published short story writer (well… one short story that People's Friend picked up 🙂 )

In 2013 I launched AmyTV, an online comedy sketch show about persuasive writing and content marketing

I've talked in Austin, Texas at SXSW on the subject of funny women in marketing

I'm a regular lunchtime radio guest for the BBC
And I'm here to help you get the most out of this course!
What business owners say about working with Amy's system
In its latest form, Write With Influence is still a relatively new product, but it's been developed from materials I've taught previously in online webinars around the world and live workshops throughout Europe. You get access to the same training materials I've used in sales page classes online and copywriting classes for multi-million pound international organisations.
Here are just a few samplings of feedback from people who have been in those workshops and classes:
Greater clarity on my customer's problems and how my product solved these problems

When I signed up for the Sales Page Bootcamp, I was skeptical that I would learn anything new. After all, I was pretty happy with the sales page that I created. And the cost of the course was more than I wanted to spend right now. However, I've been a big fan of yours for quite some time and couldn't pass up the opportunity to learn from you. It turned out to be a smart decision. Your course helped me create a sales page that I'm really proud of. And your feedback was timely and very helpful. You really know your stuff, Amy. First, working through the exercises gave me greater clarity on my customer's problems and how my product solved these problems. Next, I learned how to translate my product's features, benefits and results into headlines that reached out and grabbed my reader. Finally, using your sales page model helped me create the content that supported my headlines. And I learned a logical system that I can easily repeat on my future products. Bottom line? I'd highly recommend your course to anyone who needs to write a convincing sales page. Bill Honnold – Honnold Media
Thanks Bill!
Next up, Barry:
Thanks again for all your help Amy. The slides and lesson material were straight forward and easy to follow. I'm using them as references on new projects. Nice to have! Best Wishes, Barry. – Barry from Twin River Expediting
Tara from "How to Get a Teaching Job had this to say:
Amy's training has helped me turn my eBook sales page into something that I am proud of.  She provides detailed copy-writing advice, personalized feedback, and specific criteria that is easy to follow. The workbooks that she supplies have not only helped in my own page, but have also given me confidence and inspiration to start copy-writing for clients. – Tara Stukkie, How to Get a Teaching Job
Over to you Jeda:
Amy Harrison's training was excellent. Direct, easy to follow and very detailed, she had certainly thought about all areas and aspects. I'll be able to use her training and handouts for numerous projects, knowing I'll now have everything covered. Thank you! – Jeda Peal of JedaPearl.co.uk
Holly Jenser attended a sales page bootcamp I ran online (you get access to the same structure in Write With Influence). Here's what Holly thought:
Your "How to Write a Sales Page" course was just what I needed to improve my copywriting skills. While I already knew the basics through another program, I lacked any confidence in my sales page skills. Your training, guides, and examples helped me efficiently organize information and think of new angles. Furthermore, your feedback on my ideas and writing showed not only what I needed to improve, but what I did well. I have so much more confidence in my sales page writing skills now, and my writing for clients shows it. Thank you for your excellent course and materials.  – Holly Genser, Web Writer and Consultant, www.HollyGenser.com
What's inside?
Start Module
This section is your orientation area for Write With Influence. It walks you through why Writing With Influence is so important today with the way marketing, businesses and consumer demands have changed in the past few years (thanks internet!) The materials in this section include:
The 15 Elements of Influence

Why You Need to Write With Influence Today

Information Vs Influential Writing

The Writing Habits You Need to Break

Modern Marketing Uses

Selling Yourself Short? Read This

Submit Your Content
1: Define Your Offer
Before you write, you need to know what you're writing about. This section gets you to put your offer under the microscope and identify as much detail about it as you can. This is because your ability to influence in your writing is directly correlated to how much you know about the subject. Great copywriting isn't about that certain word or phrase, but about the research that shows you what your selling points are, and where your value lies.
Here are the lessons you'll find:
1: Two Research Mistakes You Must Avoid

2: Setting Your Goals

3: Your Influential Product or Service Details

4: Your Influential Business Details
2: Know Your Audience
Once you have your offer pinned down, it's time to look at who is going to be the perfect fit for that offer. This is something I found business owners were very frustrated with. Most marketing advice asks you to find out details about your audience that you will never use in your writing. I've worked with companies who have spent weeks on training courses building huge in-depth profiles on their customer right down to the number of people they live with, their favourite colour and the car they drive.
Looking at a weighty folder with all that detail was overwhelming and not very helpful, they still had no idea how to start writing their marketing content.
I'm not saying in-depth research isn't useful, I'm saying for the average small business, these details will stall you rather than set you off on a course to creating persuasive copy. I want to get you up and running as quickly as possible without compromising quality. So in this section spend time building a useful profile with the following lessons:
Why Your Customer Profile is So Important

1: Identifying Your BEST Customer

2: The Customer Details You Must Know

3: Using Details to Attract and Engage

4: Writing to Multiple Audiences
3: Your Goldmine of Influence
This area acts like a bridge between the first 2 sections. This is where you revisit what your customer wants and how that matches what you have. You look at how to use emotions to engage (without sounding emotional) and how to use a step-by-step process to build a compelling story that says: "I know what you want, I can help you achieve it, this is how…"
Lessons in this section include:
1: Engage With Influential Emotions

2: Credible Facts and Powerful Results

3: Show You Have What They Want

4: How to Tell a Unique Story

5: The Until Now Technique

6: Powerfully Persuasive Proof

(NEW!) 7: Make Them Feel Red-Faced and Naked
(NEW!) 8: Themes to Make Your Story Irresistible
(NEW!) 9: Selling with Active Language
(NEW!) 10: Banishing Filler and Fluff
4: Overcome Resistance
Technically, this isn't so much 'overcome' resistance as 'tackle any issues before they turn into resistance.' It's about creating customer confidence when they think of you and your product, about building proof, answering customer questions and showing that you, your business and your product can be trusted. In this section you'll find:
1: The Promise, Process Proof Technique

2: How to Gather and Use Testimonials

3: Overcoming Objections

4: Talking About The Price

5: Should You Use a Guarantee?
5: Templates + Fast Track 
This area will continue to be developed as I add more templates for different formats of writing (got an idea for a template you'd like? When you register, let me know!) Currently it's set up so that you can either:
Work through the modules and then complete a template

Simply use the headline templates and fast track template to start writing straight away (recommended only if you either really know your product or have been through the modules previously)
You can also see how influential your writing is with a quick checklist. Materials in this section include:
Headline Templates

Product Page

Services Page

Fast Track Template

Score Your Influence Checklist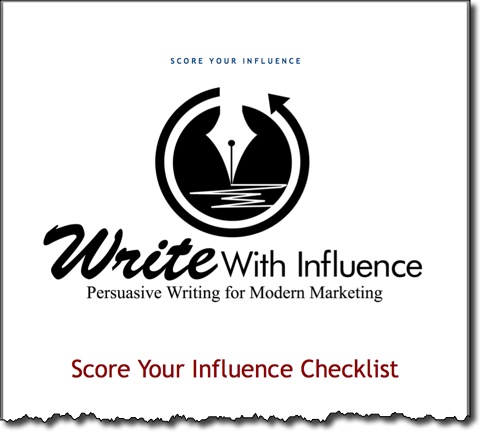 Boosters
This is the section that contains tutorials for all of those added extras that add oomph to your writing, such as:
Headlines

Subheadings

Bullet Points

Tone of Voice

The Call to Action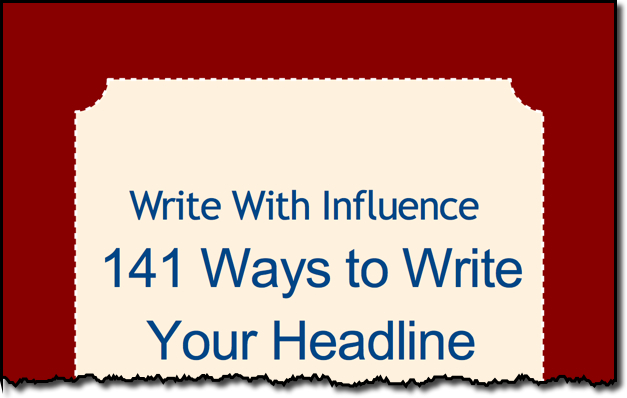 Okay, there's a lot in it, hit me with the price…
When you joint Write With Influence today, your one-off access cost is just £197.
I want to repeat, that's a one-off cost not a monthly cost. In short, if you take advantage of signing up at the earliest stage you get access to all this content, and future content for just £197. That's all you pay, not a penny more.
Why is it such an accessible price?!
My driving desire behind the resources is to make it easy for business owners to access, and a hefty price tag won't help. Also I want to reward you as an early member for signing up and thank you in advance for any feedback you provide (no obligation but remember you have unique chance to shape the course with the option to request lessons and tutorials you'd like to see in the course.)
A few important things to note:
The option to 'pay once' will not be available forever – Write With Influence will be changing to a regular membership with ongoing membership costs

Personalised feedback will not be available on all future launches
If you want in, this is THE best time to buy
Yes, I want access to Write With Influence for a one-off payment of £197
What if it's not for me?
You didn't skip over the "Is Write With Influence for You" section did you? 😉 Once you login you have immediate access to years of my work in copywriting and content marketing at a price I've made deliberately accessible to small businesses. I am confident that the value of the materials far outstretches the cost of the membership. As a result refunds won't be admitted 5 days after becoming a member.
However, if within 7 days of you joining you believe that you have significantly misunderstood what the course was about, email us, let us know what caused confusion and we will happily issue a refund.
Let me in already!
No worries.  Simply click on the payment button:
You'll be taken to Paypal to make your secure payment (you can still pay by credit card if you don't have a PayPal account)

Once you've completed your purchase details you'll be redirected to a welcome page where you can create your login details (you'll also get a link to this page in your purchase confirmation emails)
Once you've created your login details you'll be taken to your member dashboard and you'll be good to go.
Got it! Now, help me write more persuasive marketing content for just £197 all-in…
Here's to helping you write some killer marketing materials – I can't wait to see what you do!