A lot of marketing focuses on benefits and all the reasons people would love your product.
But there's an advantage to be had for marketers brave enough to delve into the darker side of  answering the question: "why might someone not like this product or business."
And because most businesses don't do this, it's something you can use to your advantage to stand out from the crowd.
This episode features exclusive content from my curmudgeonly father as I asked him for ideas about why people might hate certain industries…
In this episode you'll learn:
Why it's important to ask the question – what might customers hate about what I do?
How you can use this information to stand out from the competition (without criticising the competition)
How to use this information to build empathy and position you as an expert to solve their problem
Why you don't want to go too far down this path (to protect your self-esteem).
And don't forget you can get free copywriting advice for your specific problem or question – just tell me what you need in the comments below for the chance to get the answer in a future episode of the Write With Influence podcast.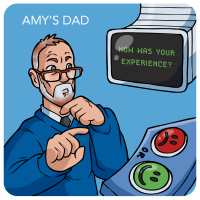 Ep 7: Why Do People Hate What You Do? A Clever Copywriting Trick to Stand Out from The Competitionamy harrison