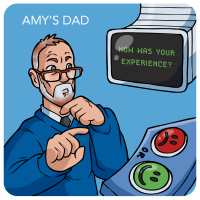 Ep 7: Why Do People Hate What You Do? A Clever Copywriting Trick to Stand Out from The Competitionamy harrison
A lot of marketing focuses on benefits and all the reasons people would love your product but there's an advantage to be had for marketers who are brave enough to delve into the darker side of answering the question:
Why might someone not like this product or business?
And because most businesses don't do this, it's something you can use to your advantage to stand out from the crowd.
This episode features exclusive content from my curmudgeonly father as I asked him for ideas about why people might hate certain industries…
In this episode you'll learn:
Why it's important to ask the question: What might customers hate about what I do?
How you can use this information to stand out from the competition (without criticising the competition).
How to use customer frustrations to build empathy and position yourself as an expert to solve their problems.
Why you don't want to go too far down this path (to protect your self-esteem).
And don't forget you can get free copywriting advice for your specific problem or question – just tell me what you need in the comments below for the chance to get the answer in a future episode of the Write with Influence podcast.
Links:
Show Transcript:
AMY HARRISON:
Hello and welcome to another edition of Write with Influence where I share my persuasive writing and messaging techniques for making more sales in your business. Today we're going to be facing an uncomfortable truth that is not always easy to admit but can be used to your advantage and that is to ask yourself, why do potential customers possibly hate your industry? Now this sounds like an odd question to ask – why would we be critical of the very industry that we work in? Well, here's why. If there are frustrations that people have about your industry, customers may also make the assumption that all companies in this industry are there same. So, when you come along with your offer, someone might think, well that sounds great, but I've been burned before. And how you can use this to your advantage is to acknowledge those frustrations, identify them, acknowledge them, and then show that you're different.
I have a great copywriting example of this but although I know I've heard and read this story as it stuck with me, since reading about it, I've searched high and low and have been unable to find the source. But do you know what? Even if it's invented, it's a really good illustration of this. The story goes that a plumbing firm wanted their advert to stand out in the phone book (back in the day when people advertised in the phone book) and they did some research about what people didn't like. They looked at those frustrations and then what they did is, they flipped them around and used them as an advertising advantage. So, their advert read, "We will turn up on time and smelling nice." Apparently back in the day, whenever this was, plumbers didn't have the greatest reputation for being on time or you know, smelling favourably!
So, I want you to do a bit of research and explore some possible frustrations that people might have about your industry and I really recommend actually talking to people and trying to hear it in their language. You want to know the things that really get on their nerves about the industry that you work in.
For the purpose of this podcast, I decided to enlist my Dad for some help. So, I called him up and I probably made a mistake in asking him to tell me the general things that frustrated him. I probably should have narrowed the focus a little bit because, well, as he admitted himself, he could have gone on and on and on! But here are some of the highlights, for example, travel agents – this is what really frustrates my dad about travel agents . . .
[OPEN SCENE – DOUGLAS HARRISON DISCUSSING TRAVEL AGENTS]
DOUGLAS: Brochures. I don't know whether you've used a travel agent's brochure recently? Yes, they describe the hotels. Yes, they describe the facilities. Do you want to know how much you're going to be paying? You can't do it! They say, "Go online to find out our prices." Go online to find the prices! Why should I? If I was going to go online to find the prices, I wouldn't be using a bloody travel agent. Travel agents are redundant and as a matter of fact, Thomas Cook's share prices dived dramatically recently. I wonder why!
[CLOSE SCENE]
Now, if you listen really carefully, you can just about hear my brother desperately trying not to laugh as he recorded that track. Who knew that someone could get so upset over travel agent brochures that don't include the price? But if one person's willing to say it out loud, then other people may be thinking about it. So, it is worth doing this research because some of these industry frustrations might surprise you. For example, what about call centres that offer customer service support?
[OPEN SCENE – DOUGLAS HARRISON DISCUSSING CALL CENTRES]
DOUGLAS: Call Centres that are set up to deal with complaints – how come my call is important to them, but there are never enough people on the switchboard? Why don't they answer me immediately? Why don't they deal with my complaint immediately? It is a different story if I'm ringing up to buy something, then they're on to me immediately.
[CLOSE SCENE]
Despite being retired, it seems that my Dad's life is still pretty stressful now. If you don't have a Douglas Harrison at hand to churn out some rants for you, one thing you can do is go to your current customers. Go to customers that you've got a good relationship with and ask them if, before working with you, they had any hesitations about working with someone who does what you do or if they had ever had a bad experience with another supplier. I've definitely done this in the past and it's a really interesting source of information. Some of the feedback that I get with copywriting is, "I wasn't sure that someone would be able to capture my voice," or, "I wasn't sure if the copy would be really pushy and I didn't want to upset my audience by coming across as salesy or sleazy." So there probably were some hesitations before someone decided to work with you and these can be a great source of information to use in your copy as little persuasive soundbites – you can show that you know and understand their concerns, but also that you're different.
Now, it's important to note that if you're asking people particularly about whether they've had a bad experience with another supplier, this information isn't there to bash the competition. You don't suddenly say, "Oh, we're better than all of those companies who rip you off and give you terrible service." You can use this information to elevate yourself above the competition, but without knocking them in the process and here's an example that worked really, really well with one of my clients a couple of years ago. So, they were a property management firm based in Phoenix, Arizona and they wanted to do a direct mail campaign for distant landlords. A 'distant landlord' was someone who owned a property in Phoenix but didn't live close by; they probably lived in another state and weren't able to manage the property themselves so they employed a property manager to do this for them. The property management firm wanted to do a postcard campaign which was very simply to mail out to people that they knew had properties in Phoenix but didn't live there. So, the chances were that these people were already using another property manager and they said to me, "We obviously want to try and get them to switch from a competitor, but it's very important that we don't criticise the competitor because it's not legal for us to call them out." So, I asked them, "Well, tell me some of the frustrations that they would have." And they said, "Well, they get very frustrated in terms of communication or a lack thereof, as they don't live near their property, it's really important that they have up-to-date information about anything that's happening and sometimes property managers just don't get back to them, it could be days before calls or emails are returned." So, this was a big source of frustration. Another one was maintenance invoices. So, a property manager would often send a maintenance invoice to the client and they just had to trust that the maintenance that had been carried out was necessary. They couldn't just swing by the property to check the work so they often wondered whether these invoices were really necessary. And finally, it was just a lack of transparency around what is happening with my property in terms of the tenants? Are they paying their rent on time? Are they paying the rent at all? Are they looking after the place? From their experience, the company that I was working with knew that this made property owners very uncomfortable. It made them feel vulnerable and like they didn't have the full picture of how the property was being managed. So, we decided to include this information on the postcard campaign, very simply by saying on the front,
"If you're a distant landlord, you've probably got these frustrations. You want to know how your property is doing today, not in three or four days' time. You want fast communication. You want to know if the money that you're paying for maintenance is actually necessary because you're not there to check and you don't want to be worried about whether someone is actually looking after your property. You want to know if the rent is getting paid and if it's getting paid on time . . ."
Then on the back of the postcard, we simply explained how my client was specifically positioned to deal with those things and the services that they had to ensure fast communication and transparency around maintenance etc. So, what we were doing was pairing each of the frustrations with a service that my client offered to solve those frustrations and it worked really well. Within two or three days they had someone call up (and this was a cold list, this was direct mail, they were not familiar with my client) up and say, "I'm ready to switch." This wasn't a lead; they were ready to go there and then and move their business to my client because they said this is exactly the kind of frustrations that they had. So, it worked really, really well because what this technique does is, it shows empathy. You're showing that you're seeing things from your customer's perspective and that you understand the problems that they have and the frustrations that they have. This then leads really nicely into positioning you as an expert to solve those problems.
So, the way to use industry hates and industry frustrations is to highlight those frustrations and concerns. You don't even need to mention the competition, just show how you are positioned and qualified to address, solve and eliminate those frustrations. However, just remember that, in the interest of self-esteem, you should make sure that you keep the focus on your industry and criticisms of the industry. Try to remember that this isn't an attack on you personally. My Dad, for example, is a harsh critic, there's no doubt about that, but he's also (as he admits) probably the hardest critic of himself.
[OPEN SCENE – DOUGLAS HARRISON DISCUSSING PEOPLE'S OPINIONS OF HIM]
AMY HARRISON: Do you sometimes struggle with the idea that people actually like you?
DOUGLAS HARRISON: Yes, most of the time.
AMY HARRISON: Yeh, I do.
DOUGLAS HARRISON: Why would anybody like me? I know what a **** I am. I'm under no illusions here, you know . . .
AMY HARRISON: I have the same thing. I'm always really surprised when people want to spend time with me. I know that you and I, we're very critical of others but I think we put ourselves in the same camp.
DOUGLAS HARRISON: Yes. I mean, it has been said, and I find it hard to believe, that between you and I, there are certain similarities.
AMY HARRISON: No, I don't see it.
DOUGLAS HARRISON: No, I don't buy it. But yeah, maybe a couple of things like that, yes.
[CLOSE SCENE]
So, whilst it is important to ask people what they don't like about us or our industry, don't let it make you lose sight of what people do like about you. Don't forget, if you have a copy question, you can submit it into the comments below for a future episode – free copy advice – what's not to like?
Until next time, keep believing.