Today's episode deals with the heartache of a break up.
You don't want a customer to break up with you, but sometimes they walk away, perhaps into the arms of a competitor. Fortunately a scientific study shows the narrative that is most-likely to get people to stay with you. This short podcast gives you an introduction to this narrative so you can practice using it when customers might just walk away.
Links from the show:
The NIO Summit – Non-profit Innovation and Optimization summit. My favourite conference.
The Call to Action Conference – My next favourite (only second because it's been a couple of years since I enjoyed the delights of this event… I should use the narrative to get them to ask me back). Seriously though – both conferences blow all the others I've been to out of the water in the way they look after speakers and attendees.
The "Why Stay" Study details. A joint study between Dr. Zakary Tormala from Stanford University and Corporate Visions.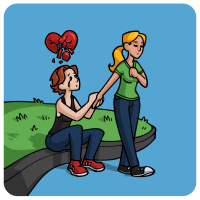 Ep 9: Don't Break Up With Me! (How to Persuade Customers to Stay… and Pay)amy harrison